Metal Spinning  Company: ALTRON – Your Trusted Partner
August 11, 2023
---
ALTRON is renowned for its forward-thinking excellence and knack for superior metal shaping. Being a leading name in the industry, they continuously strive to make breakthroughs that redefine precision craftsmanship. As a leading Metal Spinning Company, ALTRON has carved its niche by providing top-tier metal spinning services that cater to a wide array of industries. With a commitment to transparency and quality, ALTRON has become the go-to partner for businesses seeking impeccable metal spinning solutions.
ALTRON stands as a beacon of excellence in the world of metal spinning. Their commitment to transparency, quality assurance, and unmatched expertise make them the go-to choice for clients seeking impeccable metal spun components. Whether you have a unique design in mind or require large-scale production, ALTRON's capabilities are poised to exceed your expectations. Embrace the possibilities of metal spinning with ALTRON and witness your visions take shape – one spin at a time.
Frequently Asked Questions
1. What is Metal Spinning, and How Does ALTRON Excel in It?
Metal spinning, also known as spin forming or spin turning, is a metalworking process used to shape flat metal discs into various cylindrical or conical shapes. ALTRON distinguishes itself through years of experience and a dedicated team of skilled artisans who utilize advanced techniques and state-of-the-art equipment to ensure precise and consistent results.
2. What Industries Does ALTRON Serve?
ALTRON caters to a diverse range of industries, including automotive, lighting, home decor, industrial equipment, and more. Their flexibility in accommodating various sectors underscores their adaptability and technical prowess.
3. How Does ALTRON Ensure Quality?
Quality is the cornerstone of ALTRON's operations. They meticulously select raw materials, closely monitor each stage of the metal spinning process, and subject the finished products to rigorous quality checks. ALTRON adheres to stringent quality standards, ensuring that every product leaving its facility is of the highest caliber.
4. Can ALTRON Handle Custom Projects?
Absolutely. Metal Spinning Company like ALTRON specializes in custom metal spinning projects. They collaborate closely with clients to understand their unique requirements and specifications. From prototyping to final production, ALTRON's team works hand in hand with clients to bring their visions to life.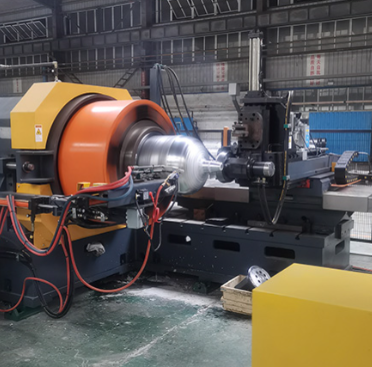 5. What Sets ALTRON Apart from Competitors?
ALTRON's commitment to excellence sets them apart. Their combination of traditional craftsmanship and modern technology allows them to achieve unparalleled precision in their metal spinning endeavors. Moreover, their transparent communication, on-time deliveries, and competitive pricing make them a preferred choice in the industry.
Addressing Common Concerns
1. Will the Finished Product Meet My Specifications?
ALTRON takes great care in understanding client specifications. Through constant communication and collaboration, they ensure that the final product not only meets but exceeds expectations. Their iterative approach during the production phase guarantees alignment with client requirements.
2. Is ALTRON Equipped for Large-Scale Orders?
Absolutely. ALTRON possesses the infrastructure and expertise to handle both small-scale and large-scale orders without compromising on quality. Their streamlined processes and skilled workforce enable them to maintain consistency and precision, regardless of order size.
3. What if I Have a Unique Design Idea?
ALTRON welcomes unique design ideas. They thrive on challenges and are eager to collaborate on projects that push the boundaries of conventional metal spinning. Their engineering team works closely with clients to translate these ideas into tangible, high-quality products.
4. How Transparent is ALTRON About Pricing?
ALTRON believes in transparent pricing. They provide detailed quotes based on the scope of the project, the materials required, and the production processes involved. This eliminates any surprises and helps clients make informed decisions.
Tips for Collaborative Projects
1. Seamless Collaboration with the Automotive Industry
Collaborating with Metal Spinning Companies can offer significant advantages to industries seeking innovative solutions. Take the automotive sector, for instance. ALTRON's collaboration with automakers has led to the creation of customized components that enhance both aesthetics and functionality. From stylish wheel covers to intricate interior accents, metal spinning proves its worth in the automotive realm.
2. Pushing Boundaries in Architecture and Design
Architects and designers are increasingly turning to Metal Spinning Companies like ALTRON to bring their creative visions to life. The ability to shape metal into captivating forms opens doors to architectural marvels, captivating lighting fixtures, and even sculptural elements. Collaborating with metal spinners allows professionals in these fields to push the boundaries of what's possible in design.
3. Catering to Industrial Equipment Needs
Industrial equipment demands robust and reliable components, often with intricate geometries. Metal spinning offers a solution that meets these requirements while maintaining cost-effectiveness. ALTRON's collaboration with the industrial sector showcases how custom spun metal parts can play a pivotal role in optimizing machinery performance.
Elevating Confidence Through Quality Assurance
1. Unveiling ALTRON's Commitment to Quality
ALTRON prides itself on its unwavering commitment to delivering top-notch quality. Every metal spun product undergoes rigorous quality control measures to ensure its accuracy, durability, and compliance with industry standards.
2. Certified Excellence: Compliance and Certifications
ALTRON is ISO 9001 certified, which speaks volumes about their dedication to quality management systems. This certification guarantees that their manufacturing processes adhere to internationally recognized standards, giving clients the assurance that their projects are in capable hands.
3. The ALTRON Difference: Experience and Expertise
With decades of experience in the metal spinning industry, ALTRON has honed its techniques, refined its processes, and cultivated a team of skilled artisans who are passionate about their craft. This experience translates into unparalleled expertise, allowing them to tackle even the most intricate projects with confidence and precision.
Conclusion
ALTRON's reputation as a distinguished Metal Spinning Company is well-earned. Their dedication to quality, commitment to client satisfaction, and technical expertise make them an ideal partner for businesses seeking top-tier metal spinning solutions. With a keen focus on addressing customer queries and concerns, ALTRON stands as a paragon of transparency, reliability, and excellence in the metalworking industry. 
--- end ---