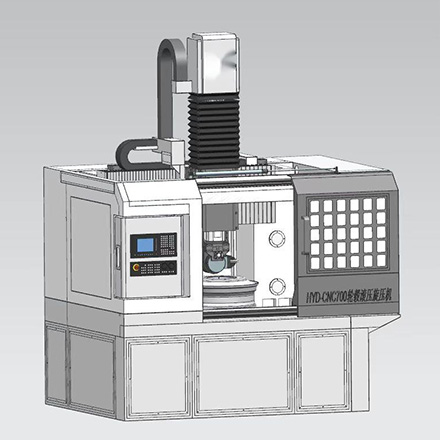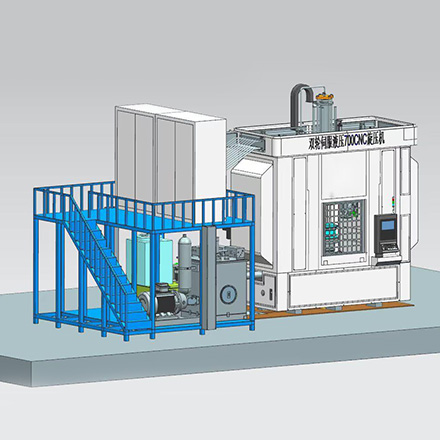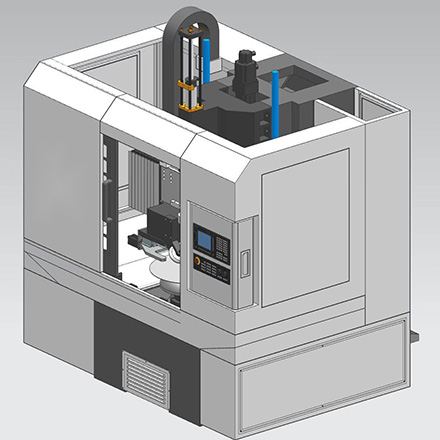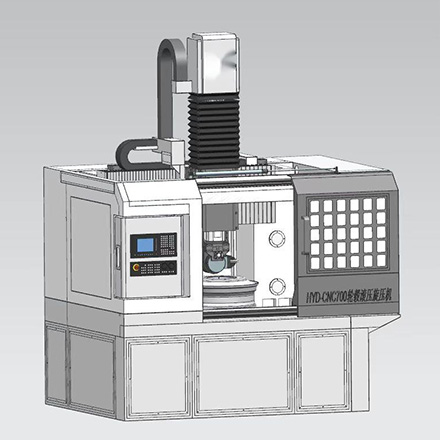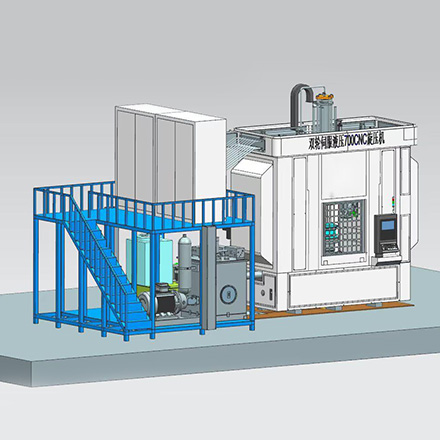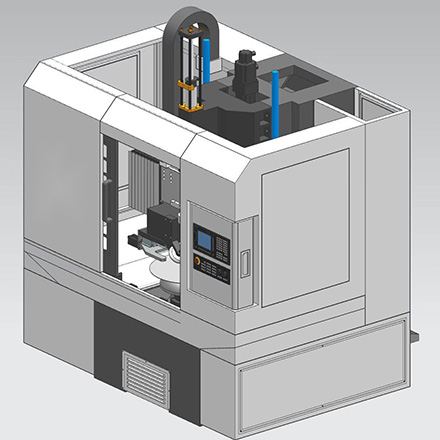 Aluminum Alloy Wheel Hub Powerful Spinning Machine
---
The Aluminum Alloy Wheel Hub Powerful Spinning Machine is a state-of-the-art device designed specifically for the production and customization of aluminum alloy wheel hubs. It incorporates advanced spinning technology to shape and form aluminum alloy materials into precise and durable wheel hubs used in various automotive applications.
Key Features:
High-Precision Spinning: The machine utilizes advanced spinning techniques to precisely shape and form aluminum alloy wheel hubs with exceptional accuracy and consistency.

Powerful Performance: Equipped with a robust motor and high-speed spinning mechanism, the machine delivers powerful spinning force, enabling efficient and rapid production of wheel hubs.

Versatile Compatibility: The machine is designed to accommodate a wide range of aluminum alloy materials, allowing for the production of different sizes and designs of wheel hubs to meet diverse customer requirements.

Customization Capabilities: With its advanced control system, the spinning machine offers customization options, allowing for the creation of unique wheel hub designs, including intricate patterns, finishes, and branding.

Durability and Quality: The machine is built with sturdy and durable components. It also ensures long-term reliability and consistent production of high-quality aluminum alloy wheel hubs that meet industry standards.

User-Friendly Interface: The spinning machine features a user-friendly interface. This makes it easy to operate and control the spinning process. It also includes safety features to ensure operator protection during operation.

Efficiency and Productivity: The machine is engineered for high efficiency and productivity. This also reduces production time and costs while maintaining excellent output quality.
| | |
| --- | --- |
| Machine Name | Aluminum Alloy Wheel Hub Powerful Spinning Machine |
| Model | HYD-CNC700/2 |
| Application Industry | (can be modified) |
| Technical Service | Complete the test in the early stage; provide online and offline training in the later stage, and complete the turnkey project. |
| Technical Guidance | Online 24 hours a day |
| Project Progress | 30-120 days |
| Relevant Files | JOBY-CNC spinning machine for fan(en) |
ADAVANTAGES

PARAMETERS

CUSTOMER TESTIMONIALS
The aluminum alloy wheel hub powerful spinning machine, model HYD-CNC700/2, is specifically designed for the spinning forming of aluminum alloy wheel hubs and rims. Its vertical combined structure is built with high-strength castings to ensure durability and stability during operation.
The machine's transmission mode features a servo hydraulic control system for the cross slide, which provides high precision, large and stable thrust forces. This advanced system replaces the previous servo motor screw drive structure, resulting in improved performance. The main shaft is equipped with large thrust roller bearings, ensuring stable and powerful operation. Additionally, an oil-cooling structure is implemented to maintain optimal operating conditions. The hydraulic control system adopts the German 4WRPEH10 servo proportional valve control, enhancing its efficiency and reliability.
The equipment is controlled by the Siemens 820D SL system, offering high precision and convenient programming capabilities. It operates in program control mode, allowing for manual adjustment, semi-automatic, and fully automatic operation modes.
Key Functions:
Spindle Adjustability: The spindle can be steplessly adjusted and programmed, providing flexibility in shaping the wheel hub and rim.

Radial Feed Adjustment: The radial feed of the rotary wheel can be steplessly adjusted and programmed, enabling precise control over the spinning process.

Axial Feed Adjustment: The axial feed of the rotary wheel can be steplessly adjusted and programmed, facilitating accurate shaping of the wheel hub and rim.

Hydraulic Control of Tail Top: The tail top speed is controlled hydraulically, allowing for quick approach, gradual compression, and rapid retraction.

Fault Alarm Function: The machine is equipped with a fault alarm system to promptly identify and address any operational issues.

Unloader: The main shaft is equipped with an unloader mechanism, facilitating the removal of finished products.
Project
Name
Unit
Parameter range
Processing capability
Range of machined hub diameters
English time
14-26
Spindle

Servo spindle total power

Spindle Revolution

Spindle interface

Tailstock spindle interface

KW

R/MIN

DIN

DIN

150

50~800 variable speed

DIN 55027 SIZE 15

DIN 55027 SIZE 8

Roller

Number of rotors

Wheel diameter

Maximum throat depth

Roller mounting interface

Of the project

MM

MM

DIN

2

380~400

60

DIN  SIZE-6

Spinning thrust

The lateral thrust of the rotary wheel

Wheel longitudinal thrust

KN

KN

250 * 2

250 * 2

The wheel moves

Rotary wheel transverse machining speed

Rotary wheel longitudinal machining movement speed

The wheel advances the speed of movement laterally

Rotary Wheel Longitudinal Fast Forward movement speed

MM/MIN

MM/MIN

MM/MIN

MM/MIN

Max. 2000 * 2

Max. 2000 * 2

Max. 5000 * 2

Max. 5000 * 2

Roller power

Wheel lateral power

Wheel longitudinal power

Hydraulic

Hydraulic

Max. 20Mpa*2

Max. 20Mpa*2

Roller stroke

Wheel travel (X)

Wheel's longitudinal travel (Y) 

MM

MM

250 * 2

500 * 2

Roller positioning

Wheel lateral positioning accuracy

Rotary wheel longitudinal positioning accuracy

MM

MM

0.015

0.015

Tailstock

Seat travel

Seat thrust

MM

KN

700

100~250

Hydraulic station

Rated working pressure

Hydraulic power

MPa

KW

20

90

Oil-cooled
Rated power
KW
18.2
Center distance
Center distance between top and bottom spindles
MM
1460
Return

Spindle unload thrust

Spindle discharge stroke

KN

MM

50~200

100

Equipment
Weight
Tons
26 tons
Post a review on Aug 21, 2022 From Bolivia

---

We have been using the Aluminum Alloy Wheel Hub Powerful Spinning Machine in our production facility for several months now, and we are extremely pleased with its performance. The machine's precision and stability have significantly improved our wheel hub production process.

Post a review on Fec 21, 2022 From Mauritius

---

It offers excellent control over the spinning operations, resulting in consistent and high-quality wheel hubs. We highly recommend this machine to any automotive manufacturer looking for advanced spinning technology.

Post a review on jul 21, 2022 From Uruguay

---

Our company supplies aluminum alloy wheel hubs to various automotive manufacturers, and the Aluminum Alloy Wheel Hub Powerful Spinning Machine has been a game-changer for us. 

Post a review on Oct 10, 2022 From Venezuela

---

The machine's servo hydraulic control ensures exceptional precision and stability during the spinning process, resulting in wheel hubs that meet stringent industry standards. Its versatility and compatibility with different aluminum alloy materials have expanded our product offerings, giving us a competitive edge in the market. This machine has significantly improved our production efficiency and overall business performan