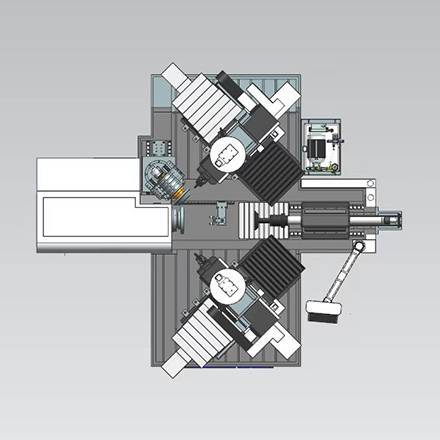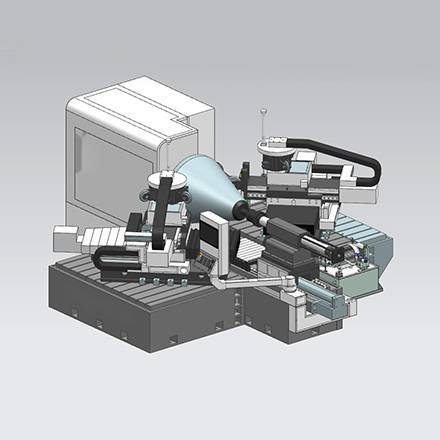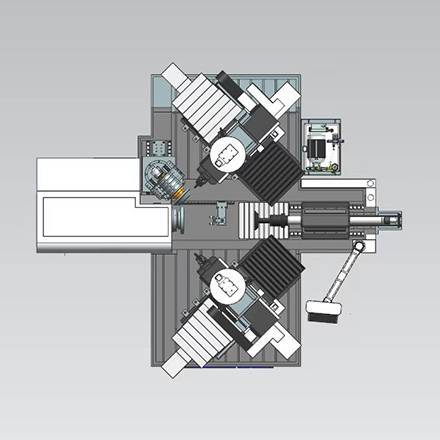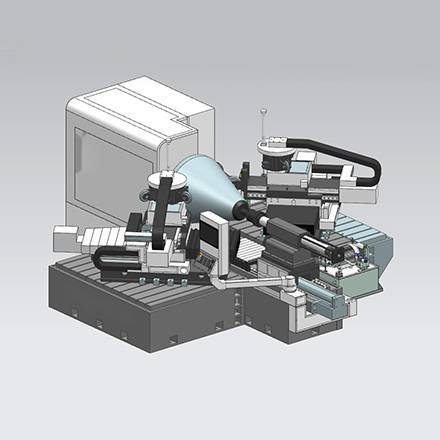 HYD-CNC1600SX Powerful Double Wheel CNC Spinning Machine
---
Introducing the HYD-CNC1600SX Powerful Double Wheel CNC Spinning Machine, a state-of-the-art solution designed to revolutionize the production of wheel hubs and rims. This advanced machine combines cutting-edge technology, precision engineering, and exceptional performance to meet the demanding requirements of modern manufacturing.
The HYD-CNC1600SX features a powerful double wheel configuration, allowing simultaneous spinning of two wheel hubs or rims, thereby doubling the production capacity. Its robust structure is built with high-strength materials to ensure stability and durability even during high-speed spinning operations.
Equipped with a CNC control system, this machine offers unparalleled precision and flexibility. The user-friendly interface allows operators to easily program and control various parameters, including spindle speed, feed rate, and tool movements. This level of customization ensures accurate and consistent results, regardless of the complexity of the wheel hub or rim design.
The HYD-CNC1600SX utilizes servo hydraulic control for the cross slide mechanism, providing exceptional precision and stability. This advanced control system eliminates the need for traditional screw-driven mechanisms, resulting in smoother operation and improved reliability. Additionally, a large thrust roller bearing is employed in the main shaft to ensure powerful and stable spinning, while the oil-cooled structure enhances performance and longevity.
| | |
| --- | --- |
| Machine Name | Powerful Double Wheel CNC Spinning Machine |
| Model | HYD-CNC1600SX |
| Application Industry | (can be modified) |
| Technical Service | Complete the test in the early stage; provide online and offline training in the later stage, and complete the turnkey project. |
| Technical Guidance | Online 24 hours a day |
| Project Progress | 30-120 days |
| Relevant Files | JOBY-CNC spinning machine for fan(en) |
ADAVANTAGES

PARAMETERS

CUSTOMER TESTIMONIALS
Main features of the machine tool
The HYD-CNC1600SX CNC powerful spinning center is a high-performance machine tool with a solid structure and superior design precision. It features a compact and optimized three-dimensional mechanical structure, combining high-strength castings for durability. The sliding table can be adjusted to optimize spinning strength, and the Siemens control system ensures powerful functionality and stability.
The CNC powerful spinning center offers a wide range of processing capabilities, including arc-shaped, conical, hemispherical, bullet-shaped, and complex curved surfaces with variable wall thickness. It can handle materials such as aluminum, copper, steel, and non-ferrous metals, enabling spinning, trimming, flanging, rolling, shaping, and even mandrel repairing. The full digital servo system allows for simple programming and offers strong applicability.
With the German Siemens SINUMERIK 828D multi-axis servo control system, the machine provides features like mandrel protection, automatic detection during startup, automatic lubrication, fault diagnosis, and overload protection. It enables axis linkage, linear and circular interpolations, and precise positioning through servo motor control and photoelectric encoder feedback.
In summary, the HYD-CNC1600SX CNC powerful spinning center offers a robust and efficient solution for a wide range of metal spinning applications. Its solid construction, precise design, and advanced control system make it a reliable and versatile machine tool in the industry.
Project
Name
Unit
Parameter range
Processing capability
Range of machined hub diameters
English time
14-26
Spindle

Servo spindle total power

Spindle Revolution

Spindle interface

Tailstock spindle interface

KW

R/MIN

DIN

DIN

150

50~800 variable speed

DIN 55027 SIZE 15

DIN 55027 SIZE 8

Roller

Number of rotors

Wheel diameter

Maximum throat depth

Roller mounting interface

Of the project

MM

MM

DIN

2

380~400

60

DIN  SIZE-6

Spinning thrust

The lateral thrust of the rotary wheel

Wheel longitudinal thrust

KN

KN

250 * 2

250 * 2

The wheel moves

Rotary wheel transverse machining speed

Rotary wheel longitudinal machining movement speed

The wheel advances the speed of movement laterally

Rotary Wheel Longitudinal Fast Forward movement speed

MM/MIN

MM/MIN

MM/MIN

MM/MIN

Max. 2000 * 2

Max. 2000 * 2

Max. 5000 * 2

Max. 5000 * 2

Roller power

Wheel lateral power

Wheel longitudinal power

Hydraulic

Hydraulic

Max. 20Mpa*2

Max. 20Mpa*2

Roller stroke

Wheel travel (X)

Wheel's longitudinal travel (Y) 

MM

MM

250 * 2

500 * 2

Roller positioning

Wheel lateral positioning accuracy

Rotary wheel longitudinal positioning accuracy

MM

MM

0.015

0.015

Tailstock

Seat travel

Seat thrust

MM

KN

700

100~250

Hydraulic station

Rated working pressure

Hydraulic power

MPa

KW

20

90

Oil-cooled
Rated power
KW
18.2
Center distance
Center distance between top and bottom spindles
MM
1460
Return

Spindle unload thrust

Spindle discharge stroke

KN

MM

50~200

100

Equipment
Weight
Tons
26 tons
Product Details
| | | |
| --- | --- | --- |
| Parameter items | Unit | HYD-CNC1600SX double spin machine |
| Maximum disc diameter | Mm | 1600 |
| Distance between two centers (from spindle center to tail top center)  | Mm | 1500 |
| Main motor | kW | 75 kw |
| X 1/x 2 Axis stroke | MM | 500 on one side |
| X 1/x 2 axis maximum thrust | Kn | 100 |
| X 1/x 2 axis maximum movement speed | Mm/min | 5000 |
| Z 1/z 2 Axis stroke | MM | 1000 |
| Maximum thrust on Z 1/z 2 axis | Kn | 100 |
| Maximum movement speed on z 1/z 2 axis | Mm/min | 5000 |
| Spindle speed | Rpm | 50-1200 CVT |
| Maximum tail thrust | Kn | 50 |
| Tail-top travel | Mm | 600 + 800 |
| Number of cutters (roller)  | Pieces | 4 + 4/6 + 6 |
| Thickness of processed aluminum | Mm | 0.5-14 |
| Processing ordinary steel thickness | Mm | 0.5-8 |
| Stainless steel thickness | Mm | 0.5-6 |
| Spindle flange connection mode | GB | A2-11 |
| Machine weight | KG | 28000 |
Post a review on Aug 21, 2022 From Bolivia

---

The HYD-CNC1600SX has significantly improved our production capabilities. The double wheel configuration has doubled our output without compromising quality. The machine's CNC control system provides exceptional precision, and the servo hydraulic control ensures stable and accurate spinning. It has become an indispensable asset in our manufacturing process

Post a review on Fec 21, 2022 From Mauritius

---

As a wheel designer, I am impressed with the capabilities of the HYD-CNC1600SX. Its double wheel configuration allows me to experiment with intricate designs and test prototypes efficiently. The CNC control system and programmable features offer unparalleled customization options, enabling me to achieve my desired wheel aesthetics and specifications. It's a game-changer for our design team.

Post a review on jul 21, 2022 From Uruguay

---

The HYD-CNC1600SX has exceeded our expectations in terms of performance and reliability. Its CNC control system offers precise control, allowing us to consistently produce high-quality wheel hubs. 

Post a review on Oct 10, 2022 From Venezuela

---

The machine's fault alarm function has been a lifesaver, quickly alerting us to any issues and minimizing downtime. We highly recommend it to other wheel hub manufacturers.