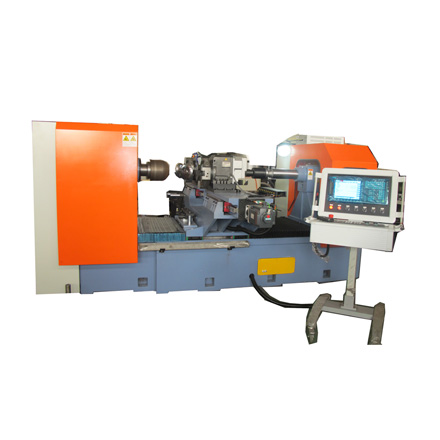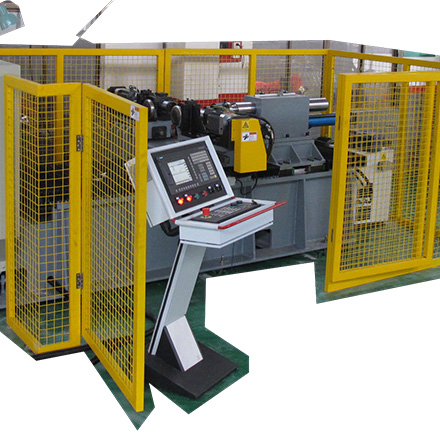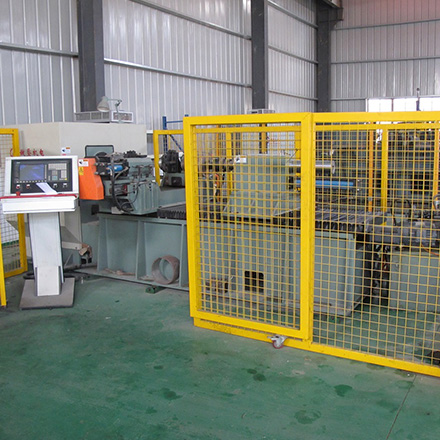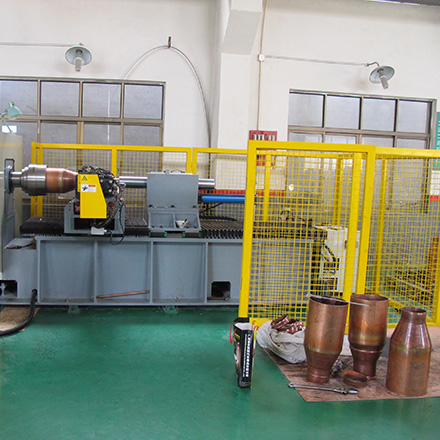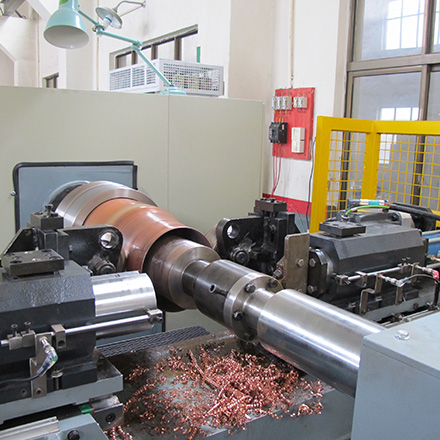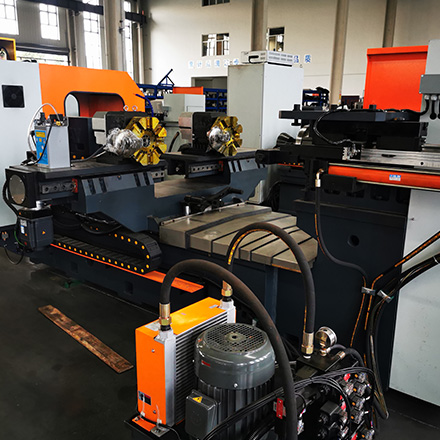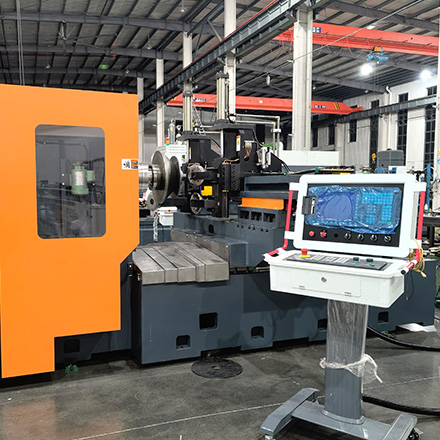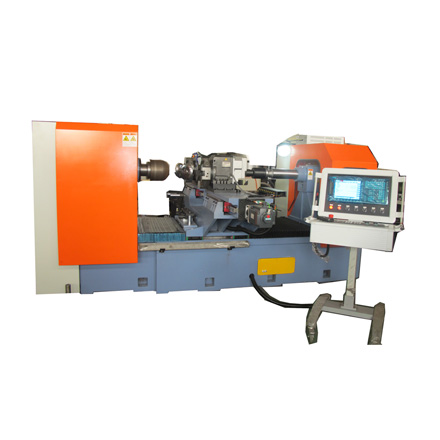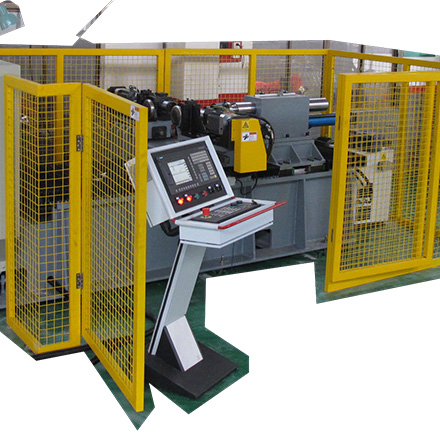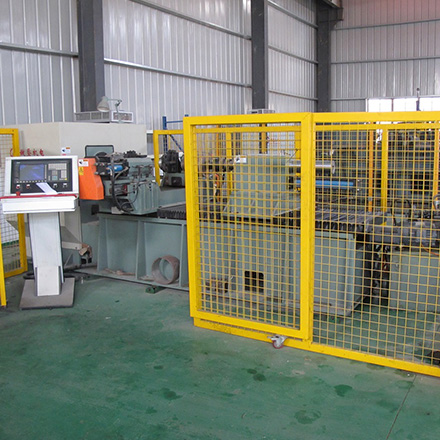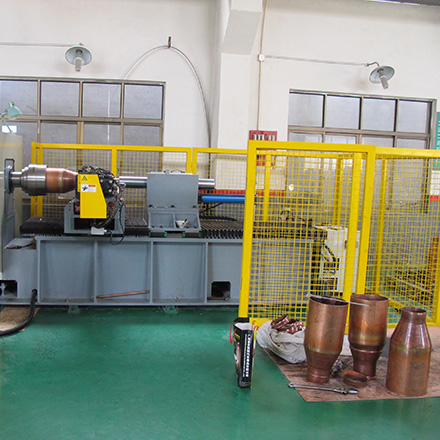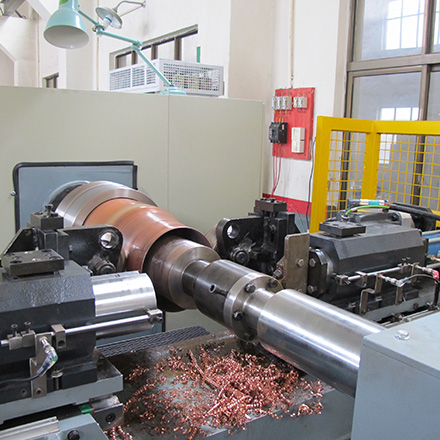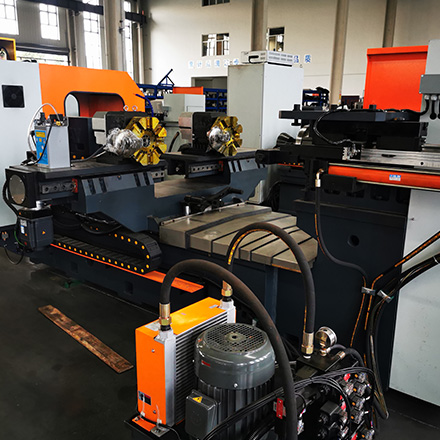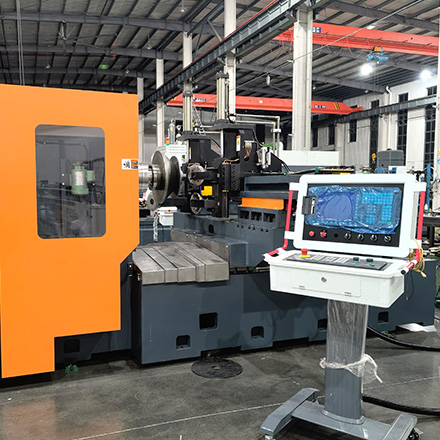 Double Wheel CNC Spinning Machine D-800
---
The Double Wheel CNC Spinning Machine D-800 is a cutting-edge spinning machine that offers precise and efficient metal forming capabilities. Designed with advanced CNC technology, it enables accurate control and automation of the spinning process.
This machine is specifically engineered to handle blanks with a maximum diameter of 800mm, making it suitable for a variety of applications. Whether you require cylindrical parts or conical shapes, the D-800 can handle them with ease and precision.
One of its key features is the double wheel configuration, which enhances stability and balance during spinning. The symmetrical spinning force and pressure distribution ensure excellent shock protection, reducing vibration and ensuring outstanding surface quality and accuracy of the formed parts.
Equipped with a user-friendly CNC interface, operators can easily program and control various spinning parameters such as speed, feed rate, and tool movements. This enables precise replication of complex shapes and facilitates efficient production with minimal manual intervention.
The Double Wheel CNC Spinning Machine D-800 offers versatility in terms of the materials it can work with. It can spin a wide range of metals, including aluminum, stainless steel, copper, and more, catering to diverse industries such as automotive, aerospace, and metal fabrication.
| | |
| --- | --- |
| Machine Name | Single Wheel CNC Spinning Machine |
| Model | D-800 |
| Application Industry | (can be modified) |
| Technical Service | Complete the test in the early stage; provide online and offline training in the later stage, and complete the turnkey project. |
| Technical Guidance | Online 24 hours a day |
| Project Progress | 30-120 days |
| Relevant Files | JOBY-CNC spinning machine for fan(en) |
ADAVANTAGES

PARAMETERS

CUSTOMER TESTIMONIALS
The ALTRON series double wheel spinning machine is designed to handle blanks with a diameter of up to 2500mm. It offers high accuracy and excellent surface quality in its spinning operations. One of its notable features is the excellent shock protection it provides, thanks to the symmetry of the spinning force and pressure applied to the spindle.
This machine is particularly suitable for processing long and thin goods, as well as cone-shaped products. It excels in handling the thinning and lengthening of barrel blanks, which are used for creating seamless thin tubes. Additionally, it can be utilized for the hardening treatment of workpieces.
Configuration
Standard Configuration
SIEMENS CNC 828D
SIEMENS Servo Motor & Drive
Asynchronous Servo Spindle Motor
Two Turrets Tool Setting Simultaneously
APEX Servo Reducer
High Strength Ductile Iron Sliding Table
Blanks Center Assembly
Back Roller Assembly
CNC Tool Turret
Hydraulic Station & Air Cooling System
Air Unload Assembly
Self-developed Spinning System
Control System Remote Maintenance
Select Configuration
Spindle Spinning Cylinder
Trimming Tool Assembly
Air Conditioner for Hydraulic Station
Hot Spinning Parts Under 700℃
Teach In & Play Back System


| | | | | | | | | |
| --- | --- | --- | --- | --- | --- | --- | --- | --- |
| Model No. | Max. Material Dia. (mm) | Radial Stroke (mm) | Axial Stroke (mm) | Roller Thrust (KN) | Tailstock Force (KN) | Spindle Power (KN) | Spindle Speed (RPM) | Material Thickness AL./carbon steel/SUS (mm) |
| ACD-600 | 600 | 260 | 1100 | 40 | 20 | 18.5 | 50-1000 | 6 / 4 / 3 |
| ACD-800 | 1300 | 400 | 1600 | 60 | 50 | 30 | 50-800 | 8 / 5 / 4 |
| ACD-1200 | 1650 | 500 | 800 | 80 | 50 | 37 | 30-500 | 10 / 6 / 4.5 |
| ACD-1600 | 1800 | 600 | 1000 | 120 | 70 | 45 | 30-450 | 14 / 8 / 5.5 |
| ACD-2000 | 2000 | 750 | 1250 | 140 | 100 | 75 | 30-400 | 14 / 10 / 7 |
| ACD-2500 | 2500 | 850 | 2050 | 200 | 140 | 132 | 10-300 | 30 / 20 / 15 |
| ACD-3500 | 3500 | 950 | 2550 | 300 | 140 / 200 | 200 | 10-300 | 40 / 25 / 20 |
Machine Configuration Parameters
Technical index
HIWIN ball screw
Post a review on Aug 21, 2022 From Bolivia

---

The Double Wheel CNC Spinning Machine has revolutionized our spinning operations. The accuracy and surface quality it delivers are truly outstanding. We can handle large blanks up to 2500mm in diameter with ease, and the results are always precise. 

Post a review on Fec 21, 2022 From Mauritius

---

The machine's shock protection system ensures smooth and stable operation, even during demanding tasks. It has greatly enhanced our productivity and allowed us to expand our capabilities. We highly recommend the double wheel spinning machine.

Post a review on jul 21, 2022 From Uruguay

---

We are extremely satisfied with the performance of the Double Wheel CNC Spinning Machine. It has exceeded our expectations in terms of accuracy and surface finish. The symmetrical distribution of spinning force and pressure to the spindle provides excellent shock protection, ensuring consistent and reliable spinning results. 

Post a review on Oct 10, 2022 From Venezuela

---

The machine's versatility allows us to work with long and thin goods as well as cone-shaped products, expanding our product range. The combination of the SIEMENS control system and the user-friendly programming software makes operation seamless. It has been a game-changer for our spinning operations