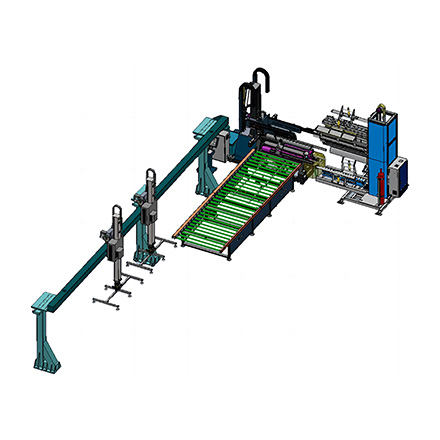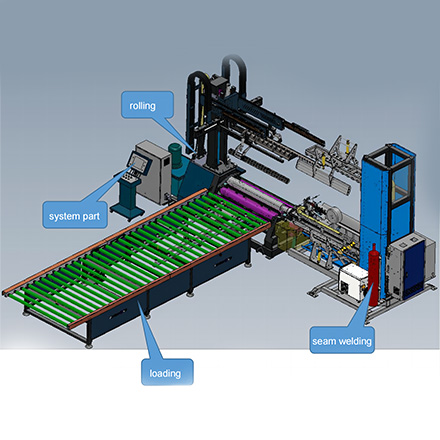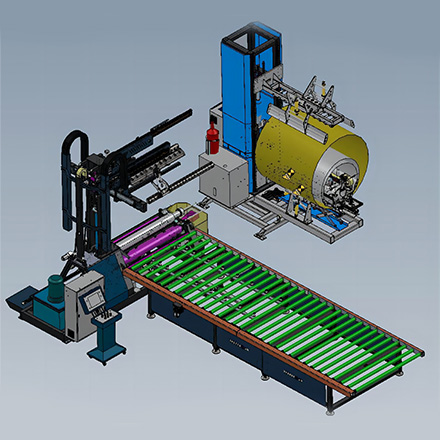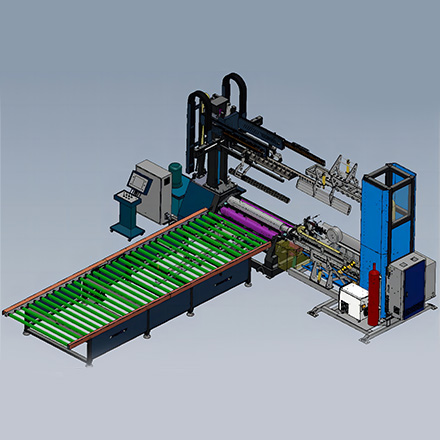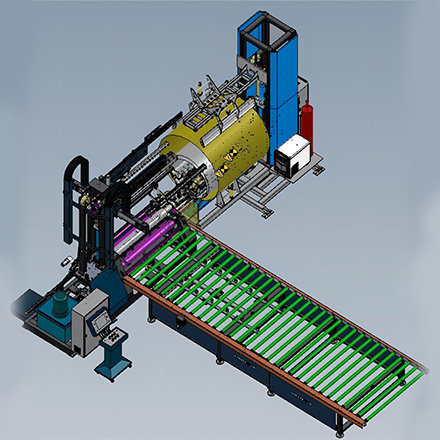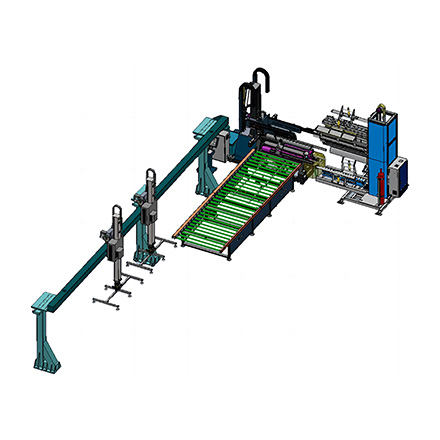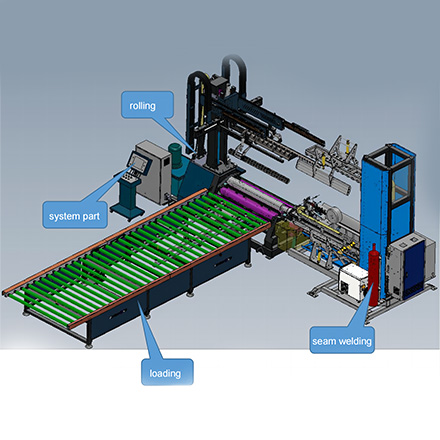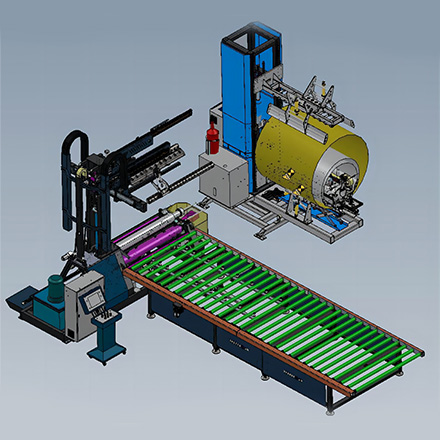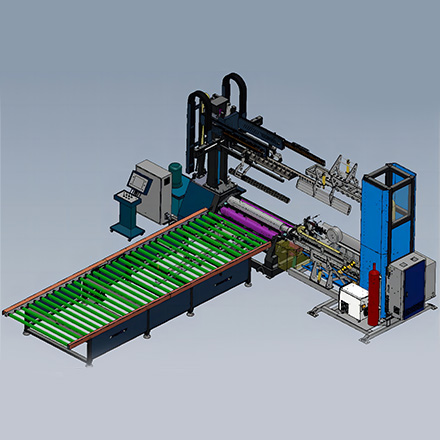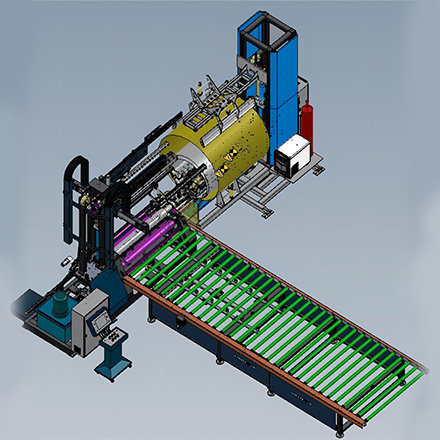 Rounding & Welding Auto Production Line For Industrial Exhaust Fan Cylinder Pipe
---
Our Rounding & Welding Auto Production Line is specifically designed for the efficient manufacturing of industrial exhaust fan cylinder pipes. This automated production line combines the processes of rounding and welding, streamlining the production workflow and ensuring consistent quality.
Key Features: Rounding & Welding Auto Production
Rounding Process: The production line includes advanced rounding mechanisms that precisely shape the cylinder pipe. The automated system ensures accurate and uniform rounding, eliminating variations and defects in the final product.

Welding Capability: Our production line incorporates state-of-the-art welding technology to seamlessly join the edges of the rounded pipes. The welding process is carefully controlled to create strong and durable welds that withstand the demands of industrial applications.

Automation and Efficiency: The production line is fully automated, allowing for continuous and uninterrupted operation. It minimizes manual labor, reduces production time, and increases overall efficiency. The automated processes ensure consistent output, maintaining high-quality standards.

Customization Options: Our production line can be customized to meet specific requirements, including pipe diameter, length, and material. The flexible design accommodates a variety of exhaust fan cylinder pipe sizes, enabling versatility in production.

Quality Control and Monitoring: The production line is equipped with sensors and monitoring systems to ensure precise control over the rounding and welding processes. It detects any deviations or irregularities, allowing for immediate adjustments and maintaining superior quality throughout production.
| | |
| --- | --- |
| Machine Name | Rounding & Welding Auto Production Line For Industrial Exhaust Fan Cylinder Pipe |
| Model | – |
| Application Industry | (can be modified) |
| Technical Service | Complete the test in the early stage; provide online and offline training in the later stage, and complete the turnkey project. |
| Technical Guidance | Online 24 hours a day |
| Project Progress | 30-120 days |
| Relevant Files | JOBY-CNC spinning machine for fan(en) |
ADAVANTAGES

PARAMETERS

CUSTOMER TESTIMONIALS
Primary Quality:
Our Four Roller Rolling Machine offers a primary quality that sets it apart from other machines in the market:
Complete Automation: Our machine is designed to automate the entire manufacturing process, from feeding the materials, rolling, welding, to the discharge of finished products. This comprehensive automation eliminates the need for manual intervention, resulting in increased manufacturing efficiency and improved product quality. The machine operates seamlessly and consistently, reducing human error and ensuring precise and reliable results.
Product Specifications:
Full load minimum roll value: Φ300 mm

Coil maximum width: 1500 mm

Full hydraulic drive: The machine utilizes a full hydraulic drive system, offering high efficiency and energy savings. Compared to traditional machines, our hydraulic drive system operates at 60% higher efficiency. This ensures smooth and efficient operation during the rolling process, providing superior performance.

Safe and Reliable Operation: The machine is designed with utmost safety considerations, ensuring a secure working environment for operators. The trigger mechanism is reliable, minimizing the risk of accidents or equipment malfunctions. Operators can have peace of mind knowing that safety is a top priority in the design and functionality of our machine.
Special Horizontal Straight Seam Welding:
Processing Stroke: 1500 mm
Welding Materials: Carbon steel, galvanized sheet, stainless steel
Our machine is specially designed for horizontal straight seam welding, making it ideal for welding cylinders, particularly heavy-duty fan cylinders. It offers precise and efficient welding capabilities for various materials, including carbon steel, galvanized sheet, and stainless steel. The equipment features an automatic lifting function, allowing for multi-standard welding and meeting diverse welding requirements.
Applications:
Our Four Roller Rolling Machine finds wide application in various industries, including:
Production of Stainless Steel and Carbon Steel Air Ducts: It is used for manufacturing high-quality air ducts for ventilation systems. The machine ensures precise rolling and welding of stainless steel and carbon steel materials, providing durable and efficient air ducts.

Solar Water Heaters: Our machine is suitable for fabricating cylindrical components used in solar water heaters. It delivers precise rolling and welding of materials, ensuring the integrity and efficiency of solar water heating systems.

Kitchen and Bathroom Appliances: The machine can be utilized to manufacture cylindrical components for kitchen and bathroom appliances, such as exhaust fans and ventilation systems. It ensures accurate rolling and welding, contributing to the overall performance and reliability of these appliances.

Fan Fire-Fighting Equipment: Our machine is well-suited for the production of cylindrical components used in fan fire-fighting equipment. It offers precise rolling and welding capabilities, ensuring the structural integrity and safety of the equipment.

Automotive Industry: The machine is versatile and can produce various cylindrical cylinders used in automobiles. These cylinders can serve different purposes, such as fuel tanks, hydraulic systems, or exhaust systems, contributing to the overall functionality of vehicles.
Product Finished Effect
Configuration
Workpiece Information
round rolling dia.
Φ400~1500mm
round rolling length
400~1500mm
thickness(SUS.)
1-4mm
Machine Size (L×W×H)
13016×8084×4300mm
Material
SUS., carbon steel
Capacity
about 3Min/pcs for Φ600×600mm
Feeding Precision
±0.5mm
Machine Weight
about 10 Tons
Total Power
35KW
Post a review on Aug 21, 2022 From Bolivia

---

The Rounding & Welding Auto Production Line has been a game-changer for our exhaust fan pipe manufacturing business. The precision and consistency it offers have greatly improved the overall quality of our products. 

Post a review on Fec 21, 2022 From Mauritius

---

The automated processes have not only increased our production capacity but also reduced labor costs. The customizable features allow us to produce a wide range of pipe sizes, catering to different customer needs. We are delighted with the efficiency and performance of this production line

Post a review on jul 21, 2022 From Uruguay

---

Since adopting the Rounding & Welding Auto Production Line, our production efficiency has soared. The automation has streamlined our workflow and reduced the need for manual labor, resulting in faster production cycles and increased output. 

Post a review on Oct 10, 2022 From Venezuela

---

The quality of the rounded and welded pipes is exceptional, meeting our stringent standards.