Mechanical circular shearing machine
The circular cutting machine provides convenient adjustment of the size of the wafer for the spinning process test before the CNC spinning processing production, and can replace the small batch punch blanking. Laser cutting
If you have your own design, please contact us, there will have a professional customer service to communicate with you.
Don't have your files right now?No worries, Check out our art tips for more information.
If over 500pcs, mass production will start until pre-production sample has been approved.
Est. 7 days production
1. Machine Feature
Circular Shear Machine model CS 1300 adopt skew-type dual spindle design, the upper spindle in horizontal, and the central line of bottom spindle have a degree of-30° with the horizontal spindle, this design have more advantages comparing with the parallel spindle design, for example, the pressure-cutting surface between two cutting wheel is much more smaller, which is different from the parallel cutting wheel, in this case, it can cut thicker material when they are with the same motor power.
The design of the lower cutting wheel is different from the parallel cutting wheel type, when it is mounted in the lower spindle, the connecting position between upper cutting wheel and lower cutting wheel is point-line type, but the connecting position of parallel wheel type is plane contact type.
the projection of the lower wheel cutting surface is the internal arc line(vertical), there is a small deformation segment influence during the cutting, so it can cutting very small circle, with high cutting precision.
This drive of this circular shearing machine adopts stepping motor and reduction box, PLC control, big torque during low speed operate, and the stable cutting speed, and steadily operation.
The movement of upper spindle adopts mechanic, controlled hydraulic oil cylinder, easily adjustment.
Clamping methods of work piece is Pneumatic clamping,
Simple operate, high efficiency.
Universal and economic one.
2. Machine function
This machine can cut the Mild steel thickness less than 3mm, stainless steel thickness less than 1.5mm, Aluminum thickness less than 2mm. And in specific state, it can cut the thick material by several rotary cutting modes.
This machine can cut the circle type workpiece. For more thick workpiece, suggest to adopt several rotary cutting modes to get a better performace.
This machine have the flanging function if it is equipped the special device.
And beading function is optional, it can come true by means of equip the special pressing wheel.
3. Main specification
3、主要参数
1

刀轮转速

Cutting wheel Speed

45转/分

45 r/min

PLC调试后固定

assemble after PLC adjusted

2

剪切材料最大尺寸

Max Cutting diameter

φ1300

3

剪切材料最小尺寸

Min Cutting diameter

Φ200

4

剪切普通碳钢最大厚度 Carbon Steel Max Thickness

3mm

5

剪切不锈钢最大厚度

Stainless Steel Max Thickness

1.5mm

6

喉口尺寸 Throat size

300mm

7

方料最大通过尺寸 Max allowed size of square material

1900

8

C口尺寸

C diameter

1000

9

主电机扭矩 Main Motor Torque

20 NM

步进电机 stepping motor

10

三相电源 3Phase Power

380V/50HZ/3PH

11

总功率 Total Power

1.5KW

不含空压机 without air Compressor

液压系统 Hydraulic system

14

液压站功率 Hydraulic Station Power

370W

液压站随机配置

Hydraulic Station equipped

15

流量调整

Flow adjustment

手动 Manual Operation

16

泵内压力表 Pressure of the Pump

0-1.6Mpa

气压系统 Pressure system

空压机

Air compressor

0.6Mpa

0.1m³

用户自备

Prepared by customer

21

气压表 Pressure

0.3Mpa

机械参数 Machine Specification

22

外形尺寸(毫米)Machine Diameter

2100x1500x480

23

包装尺寸(毫米)Packing Diameter

2200x550

底托 Base

24

重量(千克)Weight(KG)

800Kg
四 The machine include three main parts:
4.1 C shape Part: This part is consist of C fixture , pneumatic clamping swing device, manual gear type leadscrew which is used for workpiece size. It is used for workpiece clamping, adjustment of workpiece size allowed, the adjustment of workpiece up and down, adjustment of knife edge.
4.2 Headstock: this part is consist of gearbox, hydraulic cylinder, upper and lower spindle, upper spindle movement block, reduction gear, etc. During working, it will come true the action of upper spindle going down, the cutting wheel rotating along with the spindle rotating, press and cut-in the workpiece, drive the workpiece rotating by friction force, to finish the cutting action.
4.3 Machine body: machine body is the main support part of the machine, the C part and head stock part are assembled on the bottom, and the hydraulic station and electric box are assembled inside.
4.4 Main drive action adopt the motor direct connection with reduction box, drive ratio 1:6. Gear, transmission spindle transmit the movement, the upper wheel and lower wheel rotates with same speed.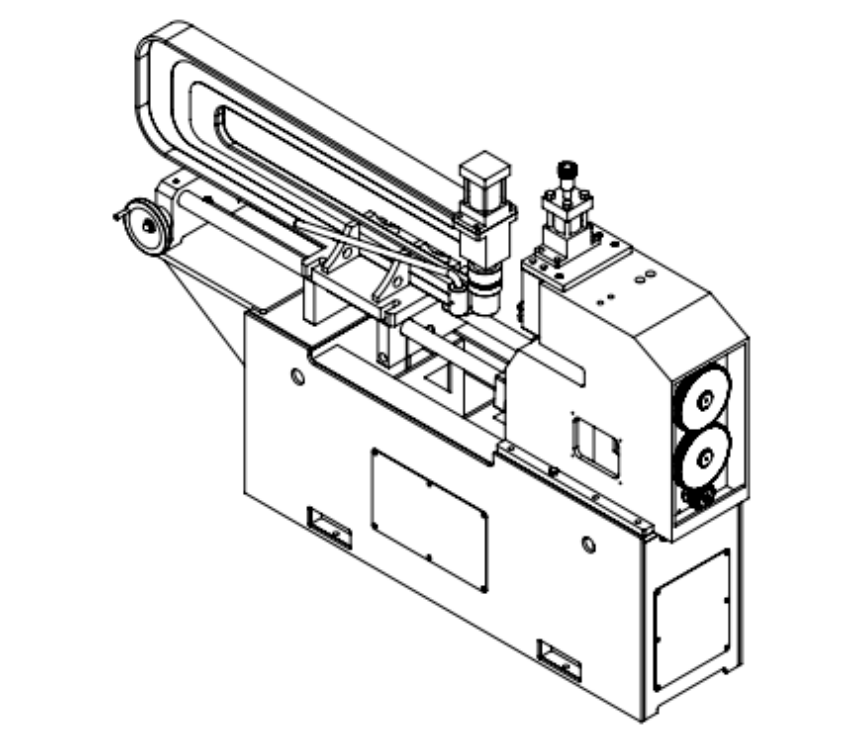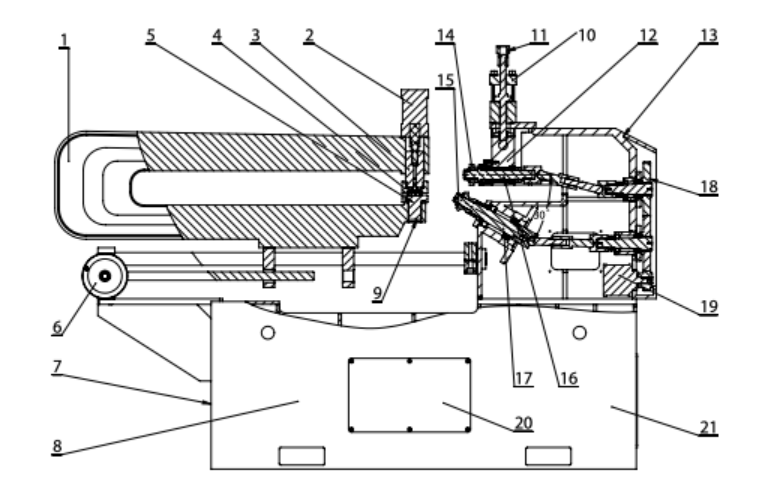 1. C opening --Work Piece clamping support
2. Workpiece clamping cylinder
3. Movement axle of air cylinder
4. Top Rotating clamping plate
5. Lower rotating clamping plate
6. adjustment wheel of workpiece size
7. Adjustment valve of air pressure
8. Machine body
9 Vertical Adjustment screw rod of workpiece
10. Oil cylinder
11. Adjustment device of oil cylinder movement
12. Upper spindle movement block
13 Headstock box
14. Upper cutting wheel
15.bottom cutting wheel
16Upper spindle
17. bottom spindle
18 transmission Gear
19. stepping motor + speed reduction device
20. internal Hydraulic Station
21. Internal Electric Cabinet
5. Hydraulic System, pneumatic system
a. Hydraulic system is consist of Hydraulic combination station and hydraulic cylinder, the system pressure will be adjusted properly before leaving factory, customer can use it after input enough oil. When first using, start the hydraulic system, please bleed the air through the oil mouth at the top of oil cylinder, it will need 3~5 times bleeding to exhaust all air in oil cylinder. As the piston of oil cylinder will shake during working if some air inside the cylinder, which will stop the work, even damage the machine.
The pneumatic system is consist of trigeminy air valve, air cylinder, etc.
6. Machine electrics
with the torque 20Nm, Hydraulic motor 250W. Attaching the Electrics diagram.
7. Operation manual
Introduction, this machine is special design and produced for small-medium type enterprise which engage in the metal sheet processing, spinning workpiece processing, think plate rotating processing, it is easily operate, and can satisfy the normal circle cutting demand less than 3mm, please work according to machine specification.
Announcment before start the machine: please move the C mouth—workpiece clamping support far away from the 13—headstock box, and inspection the distance between 14—upper cutting wheel and 15—bottom cutting wheel, to make sure the proper gap, then start the machine.
2.Blade Position Adjustment
Switch on the power switch, start the system, press the button "wheel down", checking the gap X between upper wheel and lower wheel(using the feeler gauge), and to determine the vertical overlap S according to the material thickness.
Wheel adjustment diagram