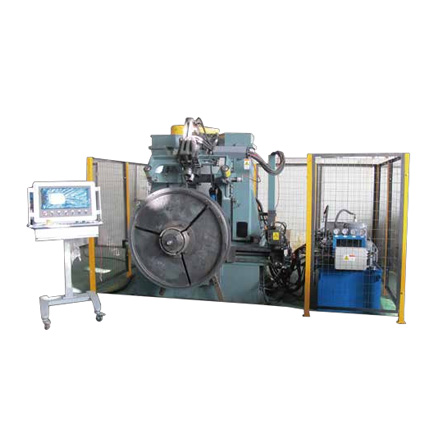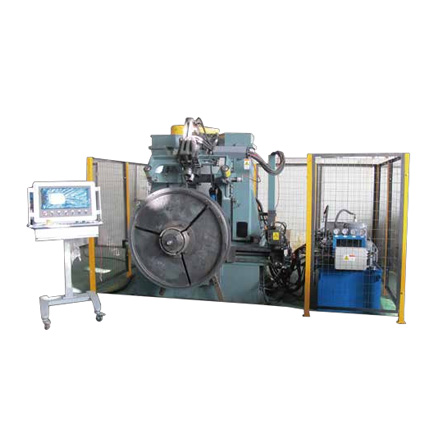 CNC Flanging Machine ACFB-1604
---
The CNC Flanging Machine ACFB-1604 is a cutting-edge and efficient solution designed for precise and reliable flanging operations. With its advanced features and robust construction, it delivers exceptional performance in various applications.
Key Features of the CNC Flanging Machine ACFB-1604:
CNC Control System: Equipped with a state-of-the-art CNC control system, the ACFB-1604 provides precise control over the flanging process. The user-friendly interface allows for easy programming and adjustment of parameters, ensuring accuracy and consistency in every flange formation.

Versatile Flanging Capabilities: The machine is capable of handling a wide range of flanging tasks, including straight flanging, curved flanging, and multi-angle flanging. It is suitable for flanging various materials such as steel, aluminum, stainless steel, and more, making it highly adaptable to different project requirements.

High Precision and Stability: The ACFB-1604 is engineered to deliver outstanding precision and stability. It maintains tight tolerances, ensuring consistent and uniform flange dimensions. The robust construction and high-quality components contribute to the machine's stability and durability, even under demanding working conditions.

Efficient Production: With its optimized design and advanced control system, the ACFB-1604 maximizes production efficiency. It offers fast cycle times and high-speed flanging capabilities, enabling manufacturers to meet tight production schedules without compromising on quality.
| | |
| --- | --- |
| Machine Name | CNC Flanging Machine |
| Model | 1600MM |
| Application Industry | (can be modified) |
| Technical Service | Complete the test in the early stage; provide online and offline training in the later stage, and complete the turnkey project. |
| Technical Guidance | Online 24 hours a day |
| Project Progress | 30-120 days |
| Relevant Files | JOBY-CNC spinning machine for fan(en) |
ADAVANTAGES

PARAMETERS

CUSTOMER TESTIMONIALS
The ALTRON FB series two wheel flanging machine offers versatile flanging and piercing capabilities at any angle, including windpipes, tubes, and cones. It can handle flanging and spinning for curved surfaces with multiple tracking. Ideal for constructing windpipes, wind collectors, and pipe flahub wheels. This highly integrated and modular series operates with stability and reliability, producing highly homogeneous goods with CNC division punching and compatibility with other products.
Configuration
Standard Configuration
SIEMENS CNC 808D / 828D
SIEMENS Servo Motor & Drive
ATOS Hydraulic Servo Valve
CNC Precise Punching System
APEX Servo Reducer
Hydraulic Position Assembly
Hydraulic Punching Assembly
Hydraulic Station & Air Cooling System
Self-developed Spinning CAD
Control System Remote Maintenance
Select Configuration
Auto Punching Assembly
Flange Plasma Cutting Assembly
Cars for Loading and Changing Ends
Video Monitoring System
Air Conditioner for Hydraulic Station


| | | | | | |
| --- | --- | --- | --- | --- | --- |
| Model No. | Max. Dia. (mm) | Min. Dia. (mm) | Max. Length (mm) | Min. Length (mm) | Max. Punching Dia. (mm) |
| ACFB-1605 | 1600 | 380 | 1500 | 100 | 20 |
| ACFB-2008 | 2000 | 580 | 1800 | 200 | 20 |
| ACFB-2512 | 2500 | 580 | 2000 | 350 | 24 |
| ACSKFB-3012 | 3000 | 580 | 2000 | 350 | 24 |
| | | | | | |
| --- | --- | --- | --- | --- | --- |
| Model No. | Material Thickness (mm) | Flanging Force (KN) | Clamping System (KN) | Arc Radius (mm) | Arc Radius (mm) |
| ACFB-1605 | 2-5 | 30 | 40 | ≤50 | 30 |
| ACFB-2008 | 2-8 | 60 | 50 | ≤80 | 45 |
| ACFB-2512 | 2-12 | 80 | 100 | ≤80 | 55 |
| ACSKFB-3012 | 2-12 | 100 | 120 | ≤200 | 60 |

D1: 380—1600mm
D2=D3: max 1700mm
H1: max 70mm
H2: max 80mm
H3: 2000- 1500mm
R2: 1.5T2—-50mm
T2: max 5mm A2: max 100(arc length)
Flanging angle 0-92 degrees, program control, steplessly adjustable"
Machine Configuration Parameters
Post a review on Aug 21, 2022 From Bolivia

---

I highly recommend the ALTRON FB series two wheel flanging machine. As a manufacturer in the HVAC industry, precision and efficiency are crucial to our operations. The ALTRON FB machine has delivered exceptional results for our flanging needs. 

Post a review on Fec 21, 2022 From Mauritius

---

It can handle various materials and angles with ease, enabling us to create strong and reliable connections in our air ducts and ventilation systems.

Post a review on jul 21, 2022 From Uruguay

---

The machine's stability and dependability have significantly improved our production processes. We are impressed with its versatility and the ability to flange and spin curves with multiple tracking. The ALTRON FB machine has become an integral part of our manufacturing operations

Post a review on Oct 10, 2022 From Venezuela

---

The ALTRON FB series flanging machine has been a game-changer for our company. Its highly integrated and modular design provides seamless operation and exceptional reliability. We have experienced consistent and dependable performance, resulting in highly homogeneous goods